WITH TONELLO, THE LASER GETS SMART
THE ULTIMATE SOFTWARE, DESIGNED BY DESIGNERS FOR DESIGNERS
Crea is the new software that drives Tonello's THE Laser, the most complete and efficient range of garment finishing laser machines on the market. Smart, intuitive and user-friendly, Crea can be used independently, by any designer who simply knows the basics of graphic design.
All this thanks to the new totally user-oriented UX, ease of use and project customization.
EASY, FLEXIBLE, CUSTOMIZABLE
High definition, graphics of all kinds, massive production, maximum quality for vintage garments, etc.: you can choose different marking modes, increase the speed and direction of marking, manage the contrast in different areas of the design according to the individual project.
With Crea's creative tools, you can edit a design in an instant and with disarming ease, directly "on the machine," to go straight into production, without having to transfer it to other external design and editing software. The productivity benefits are obviously considerable.
Crea is for all intents and purposes a complete, self-sufficient graphic software serving the creativity of designers, with high levels of customization of parameters such as powers, intensities, resolution and so on.
Crea incorporates a library of images that contains many files – whiskers, abrasions, graphics, etc. – that allow for endless combinations tailored to each creative project. The images are usable at will and can be edited as needed without hassle and in total autonomy, even with external software.
In addition, the many filters and modes allow you to create an extremely natural-looking garment. One example, the scraping filter, which gives the design an authentic hand-scratched effect with just one click.
To "unleash" the infinite potential of the Laser.
CREA WORKS BEAUTIFULLY IN TANDEM WITH B.O.P., THE AUTOMATIC "ONE TOUCH" LASER DESIGN POSITIONING SYSTEM, WHICH REQUIRES NO SPECIAL ACCURACY OR PRECISION ON THE PART OF THE OPERATOR: IN FACT, USING THE LASER T OR TM, ALL IT TAKES IS THE PUSH OF A BUTTON TO ACTIVATE THE TOOL.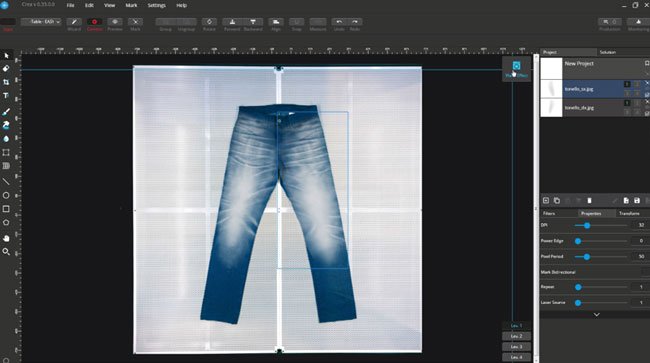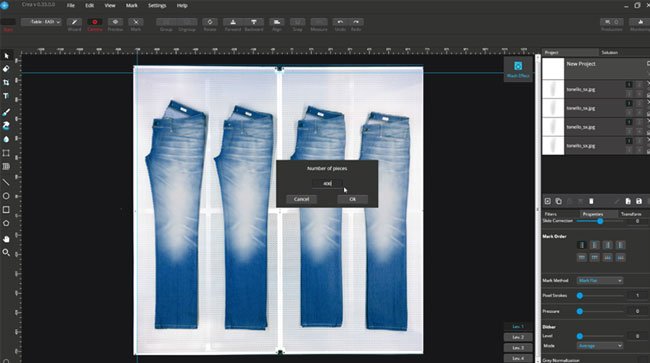 All the benefits of Crea:
All-new graphic interface full of useful tools

Simplified and automated functions

"Human-centered" UX

"Wash Effect" tool that allows you to see the final result of laser marking on washed garments before actual processing

Ability to create new designs quickly and easily and start production immediately

Studied and developed together with laser technicians and designers from around the world: Crea "thinks and acts" just like real workers