Like everyone else, we come from small beginnings. The first stirrings of what would become today's Tonello date back to the late seventies, when jeans, especially for Europeans and Italians, begin to "change their skin" and move more decisively in the direction of fashion.
RT 60-120
The first Tonello dyeing machine, with dividers and variable speed.
RC 60-120
Evolution of the RT 60-120, with addition of a spin cycle.
SW 450/900 SW 500
The first horizontal loading cylindrical machine (SW 450), followed by the first front opening, front tilting machine (SW 500), which immediately becomes the standard reference in the field of stone washing.
G1 300
Machine conceived for washing/dyeing and subsequently converted to stonewashing which represents the final consecration of the open drum, front opening machine, with front inclination.
G1 360
Evolution of the G1 300, where new materials are applied.
ECOSPRAY ROBOT
The first fully automated robot for the industrial spraying of dyes and chemicals on garments.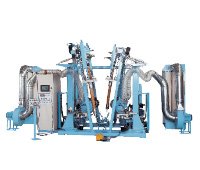 BRUSH ROBOT
Automatic machines equipped with big brushes which are able to "scrape" the jeans in several specific and predefined points. The first Brush Robots were installed in the Martelli plant in Vedelago.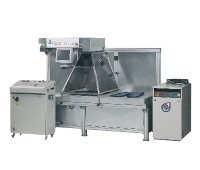 LASER EV 20
The first laser, used to achieve localized effects on garments.
SISTEMA JET
The dyeing technology that guarantees great performance, an extremely low liquor ratio, and significant savings in water, salts, alkali and energy.
BOHEMIA
The first Tonello technology for the creation of three-dimensional effects, such as whiskers, creases and crinkles, on garments.
BATIK
Fortunate and innovative technology applicable to Tonello washing and dyeing machines, which made it possible to generate special effects on garments, both homogeneous or contrasted. Pioneer of all subsequent misting technologies.
OFREE
Technology that uses ozone in air to achieve various discoloration effects on garments.
ECOFREE
Patented technology that uses ozone in water to achieve special discolorations while reducing water consumption.
NOSTONE®
The innovative abrasive drum developed with Levi Strauss & Co. that decrees the end of the stone age by eliminating pumice stone from the stone wash process.
CORE
Core is the evolution of Batik. Technology capable of generating special effects and applying a wide range of performance products to garments.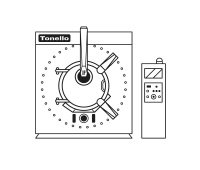 UP
The patented UP technology reduces the liquor ratio to unprecedented levels, saving water, energy and time.
ECOFREE 2
ECOfree 2 is the latest washing technology with ozone in water and in air; three systems in one to guarantee the best performance on the garment, less manual operations and a great reduction in the consumption of water and chemical products.
SISTEMA ALL-IN-ONE
The All-in-One system performs all washing operations by putting together 4 integrated sustainable technologies in a single machine: ECOfree 2, NoStone®, UP, and Core.
METRO
Metro is the first digital platform for laundry management and control.
OBLEACH
OBleach is the patented process that uses only ozone to return to the future of an authentic, sustainable and decidedly cool bleach.
WAKE
Wake is the first patented dyeing system that uses only plants and vegetable waste, without harmful chemical additives.
SANICARE
SaniCare static cabinets enable the disinfection of clothing, footwear, accessories, protective equipment and indoor environments.
THE LASER
THE Laser is the most complete laser range ever, to meet all production, creative, logistic needs.
O-ZONE
O-Zone is the static cabinet that, only by means of ozone, allows to obtain unique and customizable aesthetics and effects, such as localized discolorations and dégradé.
EVOLUTION 3
The range of washing and dyeing machines designed to offer the highest performance, reducing energy and water consumption, lowering energy and maintenance costs.
EGO
The ozone system that combines three technologies in a single solution. With its multi-machine functionality, EGO allows you to work on multiple washing machines at the same time.
DYEMATE
The first technology that reinterprets the traditional indigo garment dyeing process, taking it to a new evolutionary stage and making it repeatable, efficient and sustainable.